As a parent, you probably want to make sure that you get to see your child as often as possible after
divorce
. In many states, it's assumed that parents should share custody, but that's not exactly the case in
Florida
.
Is
shared parenting
the law in Florida?
A new Florida law to propose and enact shared parenting time was proposed recently, but the governor decided to
veto
it. According to the law, permanent alimony would have been ended and shared parenting strategies would have been determined in court. The goal would be to give children as much time with both parents as possible; in many cases, the time would be split as close to equal as it could be.
In the past, it was not uncommon to see women get
child custody
and for fathers to have visitation only on weekends or holidays. That was particularly common because of the belief that mothers were best suited to caring for their children. That isn't always the way people think today, but the
laws
in Florida still don't protect fathers by making child custody arrangements based on equal or close-to-equal custody guidelines.
Is
shared parenting
better for children?
Some would say so, and around 70 percent of the public does support shared parenting overall. Despite the fact that it has a heavy backing, the way the laws work in Florida don't support shared parenting and encourage the courts to break up child custody in whatever way is best suited in the situation, even if that limits a child's time with one parent.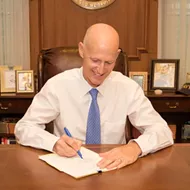 For the second time, lawmakers are sending an
alimony
overhaul to
Gov. Rick Scott
, who

vetoed

a previous attempt at rewriting
Florida's
divorce statutes three...
Excerpt

:
"This is people's lives that we are playing with. We cannot afford to play games with people's lives. We need to think about the real-life consequences of this bill,"
...she said.
But Workman said the legislation would provide certainty for

divorcing

couples, who now are dependent on judges' discretion about alimony.
The proposal "solves so many different problems that have been plaguing this state for so many years," Workman said.
"The inequality in alimony … and the gamesmanship that is used to keep one party indebted to the other, and the ripping apart of families that has caused, is solved in this bill," he said. "Giving certainty to divorcing couples for the first time in this state will be a healing mechanism."
~
Read more
Ø

- We will not accept anything less than a right in law to see our children.

Ø

-

We will not accept anything less than equality of parenting and the same rights as mothers.

Ø

- We will not accept the bigoted and prejudicial discrimination against fathers on the basis of gender.

Ø

-

We will not be treated as second–class parents in our own country.

Ø

- We will not let grandparents be separated from their grandchildren in secret courts.

Ø

-

We will not let our children be separated from their brothers and sisters in secret courts.

Ø

- We will not let our sons be discriminated against like their fathers when they grow older.

Ø

-

We will not accept that the government acts in 'the child's best interest' when it has no evidence to support this claim.

Ø

- We will not accept secret courts or an unelected, unaccountable and immune judiciary.

Ø

-

We will not accept the silencing of parents and children who speak out against secret courts.

Ø

- We will not accept the catastrophic social and economic legacy created by policies which have left a generation fatherless.
No child should be denied their human right to a father.
Support our family of fathers, mothers, grandparents, partners and other family members affected by the cancer of family breakdown. On the Forums you will receive invaluable help, support and advice from our online community and be able share your story with people who understand how you are feeling.